Ready to get the most out of your Blockpit dashboard? It's packed with cool features to help you keep an eye on your crypto portfolio. In this article, we'll break down everything you need to know to use it like a pro. Let's dive in!
Portfolio Values & Total Performance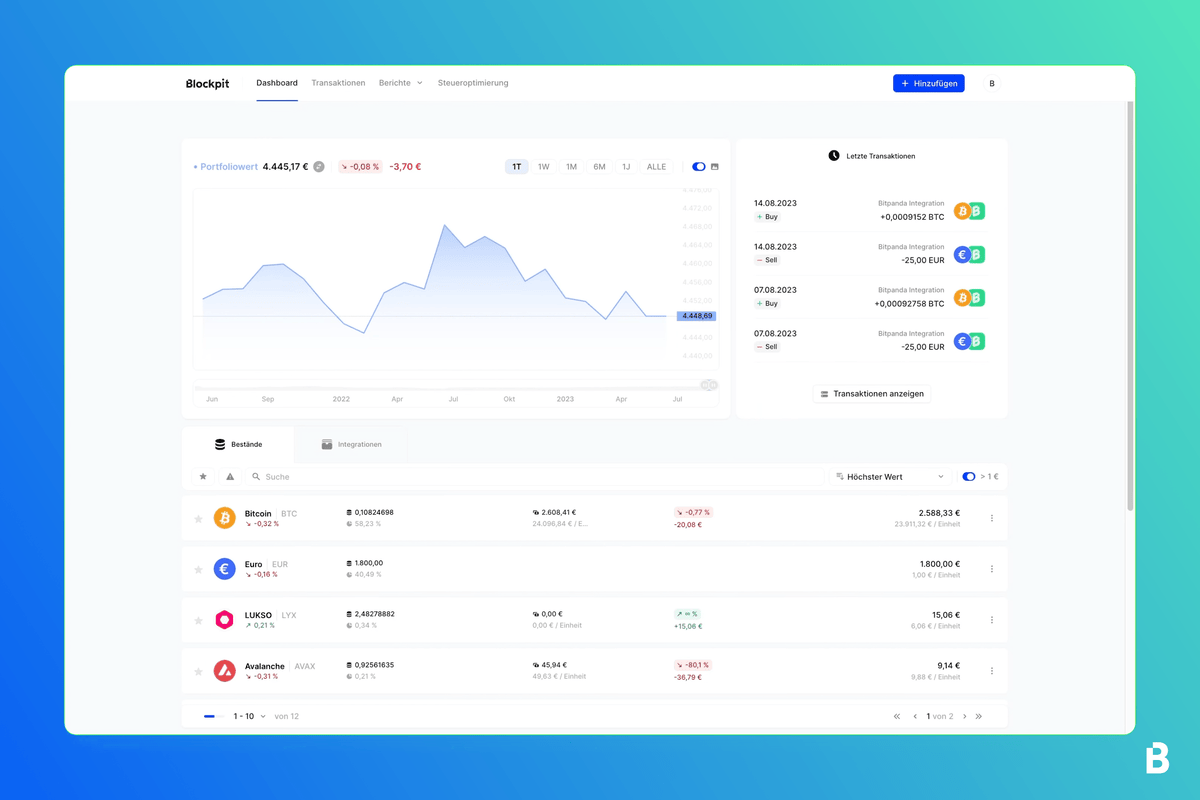 Live Portfolio Value (Value of your Synced Balance, including Manual Integrations - based on live price feed)
Calculated Portfolio Value (Value of your Calculated Balance as chart - based on all your imported transactions and hourly and daily closing prices)
Shows the portfolio change in the selected timeframe in % and in fiat value
Quick options to follow portfolio value in different timeframes
Lets you adjust the timeframe individually with a slider option
Use this toggle to activate Dashboard Compact View for more space
Follow the latest transactions on a ledger basis
Take a look at your Total Performance: at a glance, you can see your total cost basis and your current unrealized return
Holdings Tab
The Holdings Tab shows you detailed information about all of your held assets.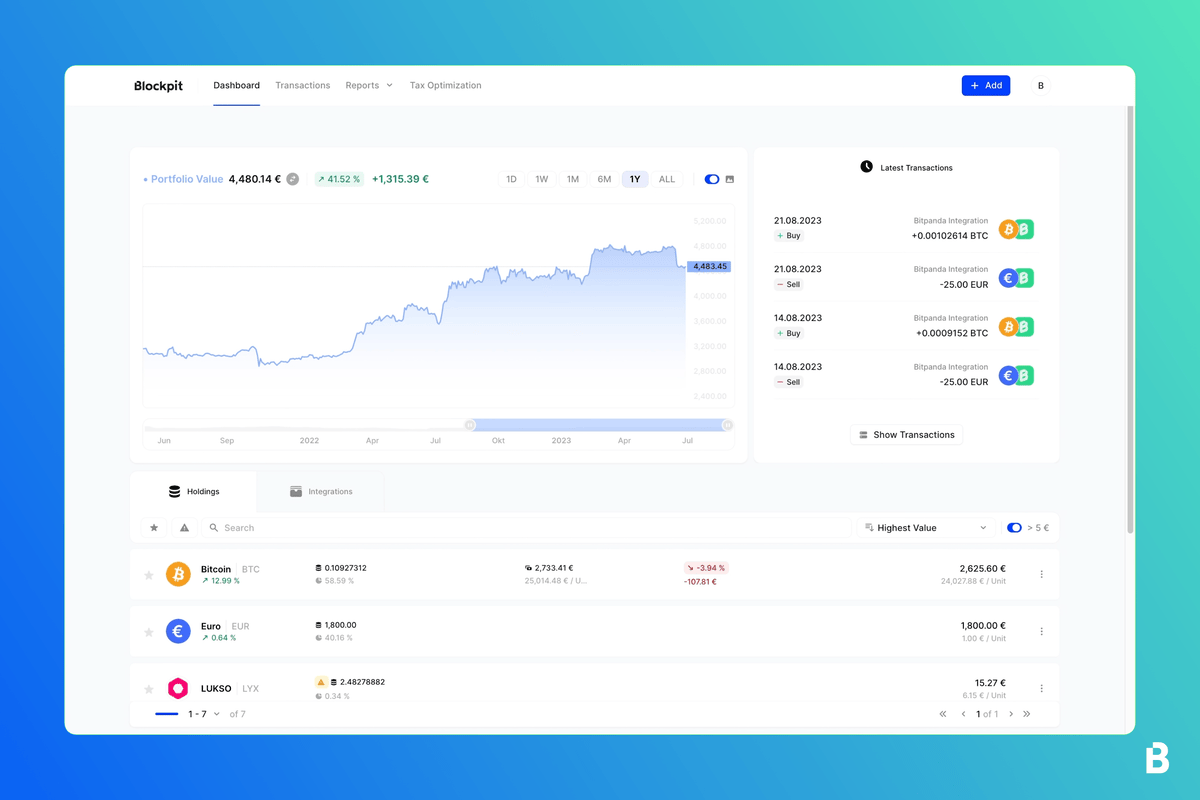 Price change in % depending on the timeframe set above
Shows balance and portfolio allocation across all your integrations
Total cost basis on top and the average cost per unit below
Performance in % and fiat value: Gets calculated from the difference between the total cost basis and the current market value
Current market value in total and per unit
Why is the value of some assets not displayed in the dashboard?


Integrations Tab
The Integrations Tab shows detailed information about all your Integrations and holds editing and grouping and other options.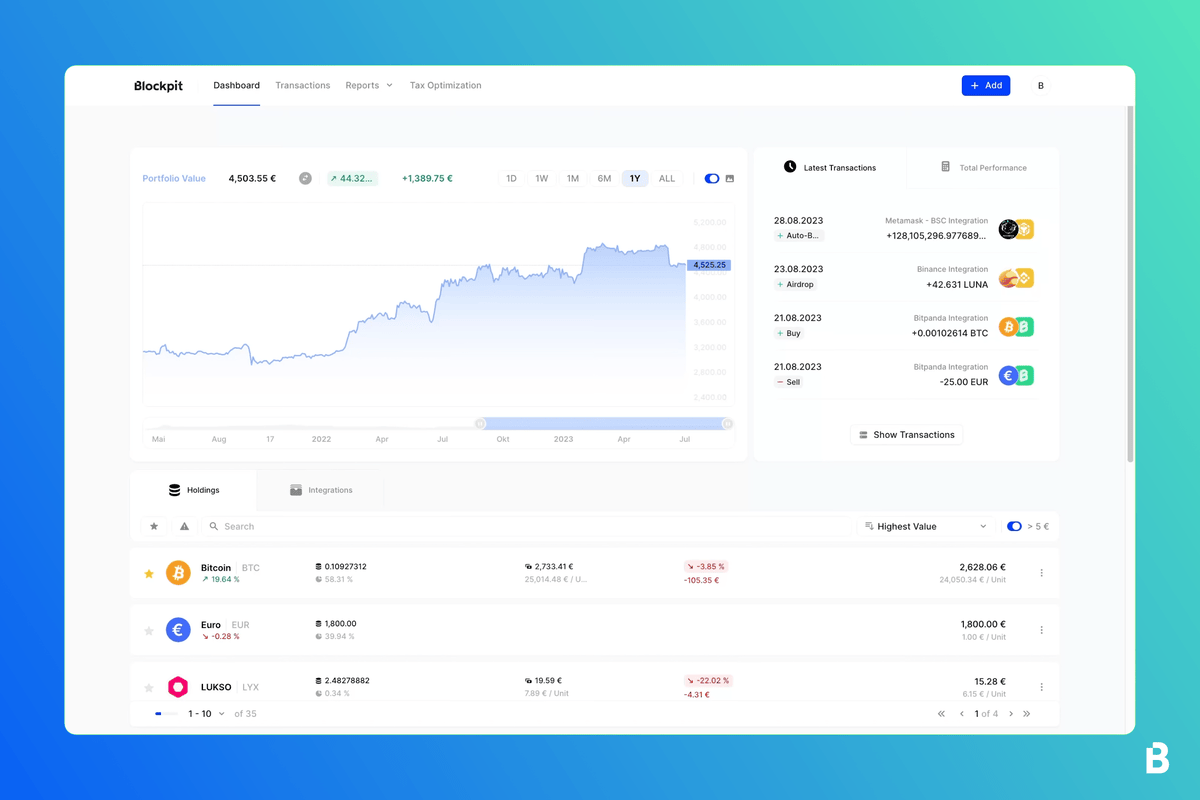 Mark integrations as favourites
Indicator for Mismatched Balances Issues or API errors
Showing if integration is synced or manual
Opens up an extra menu for various other options like editing of integration details, changing of API keys, grouping of integrations within a folder. Also allows reconciliation of balances of multiple assets to solve Mismatched Balance issues

Breakdown of assets showing their balance and allocation
Directs you to mismatched balances (if applicable)




Shows the exact difference between Synced and Calculated Balance
Opens the sidebar with more information on how to solve Mismatched Balance issues and reconcile a single asset balance

NFTs Tab & NFT Gallery
The collection view provides a comprehensive list of all NFT collections. Simply click on it to expand and reveal the included NFTs in a flashcard view. Then, click on an individual NFT to flip it around and access additional information.

Add this collection to your favourites
Displays the floor price (currently for EVM-based chains)
Your collection's value in both crypto and fiat
See all associated transactions or opt to hide an entire collection (useful for filtering out scam assets)
Enlarge the display of this NFT
Share the NFT with your friends
Add this specific NFT to your favourites
Navigate directly to the specific integration in Blockpit
Access links to top NFT marketplaces
Use the toggle to switch from the Collection to the Individual NFT View and to see all your NFTs side by side: