Unrealized Gains [BETA]
The BETA version of the long-awaited Unrealized Gains feature allows identifying the holding period as well as current positive and negative gain of all existing asset tranches. If an asset tranche has been held for more than 365 days, for example, it will be displayed on which depot this tranche is located and whether a sale of this tranche would enable positive or negative gains (profit or loss).

For Germany and Austria, a tax-free sale of the corresponding tranche is possible from a holding period of 365 days. According to FIFO (First in-First out), the oldest tranche within a portfolio is always sold first!
For the USA, a sale of a tranche that has been held for more than 365 days falls under long-term capital gains. According to FIFO (Frist in-First out), the oldest tranche within a portfolio is always sold first!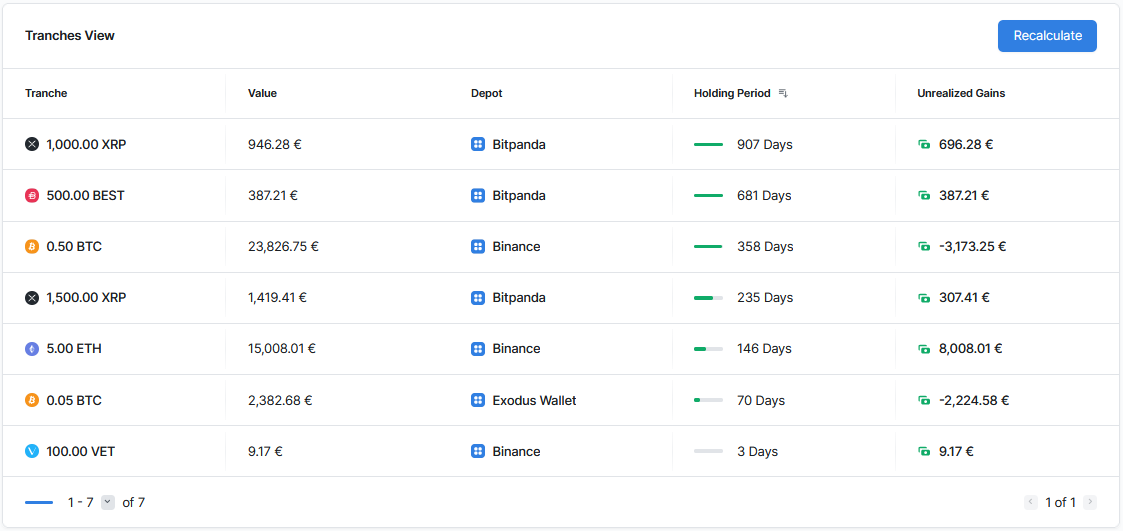 Info: For the full version of this feature, the so-called grouping of tranches older than 365 days and tranches purchased on the same day is planned. It will also be possible to hide particularly small tranches (dust).



How do I use the Unrealized Gains feature and what do I need to pay special attention to?
The Unrealized Gains function can be called up via the menu item Unrealized Gains.



Navigate to the Unrealized Gains menu item.
Now update your asset tranches by clicking the Recalculate button.

Important: The calculation is based on a complete and error-free transaction history, similar to your tax report. If the

calculation is blocked by errors

, you can fix them with the following instructions.

Make sure that all your deposits and withdrawals are correctly linked, because without a correct and complete linking of your transactions, acquisition times and acquisition costs cannot be transferred!


Now the entire history of all asset tranches ever purchased is displayed in the form of a list.
If you want to realize gains (+values) or losses (-values), the oldest asset tranche in the corresponding portfolio is always sold first.

The underlying tax logic is also referred to as FIFO (First In-First Out) and applies separately to each depot (depot segregation). However, acquisition costs and acquisition date can be transferred from one depot to another by correct linking.

With the help of this feature, depending on your tax country, it is possible to collect positive (+) as well as negative (-) profits in order to optimize your tax burden within the corresponding year (balancing profits and losses).
Always keep in mind that within a depot, the oldest asset tranche, meaning the one that has been held the longest, is always sold first.